Posted on Sun, Mar. 16, 2003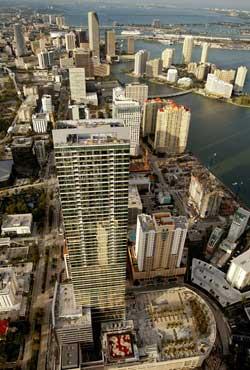 New towers to change Miami's look and life
By ANDRES VIGLUCCI

aviglucci@herald.com
AL DIAZ/HERALD STAFF
UPWARD BOUND: The 70-story Four Seasons hotel and condominium tower, under construction, rises on Brickell Avenue in this view looking north. Other high-density residential buildings are filling the skyline.
The future of Miami, long promised, is finally here. And like the angular new tower jabbing at the clouds over Brickell Avenue, it looks taller, bigger, bolder than anyone imagined.
Call it Miami Manhattan.
Clusters of residential towers of 30, 40, even 70 stories are coming out of the ground in and around downtown. They are rising cheek by jowl along Brickell and in the Omni/Edgewater district, and beyond to the Miami River and Coral Way, filling in the city's snaggle-toothed skyline.
Many more are on the way. A city report detailing projects recently completed, under way or proposed from Brickell to Edgewater runs 100 pages.
Among them: Paired luxury condominiums at the mouth of the Miami River. A tower of loft apartments in the downtrodden heart of downtown. An urban village of apartments and shops in Brickell. And, jutting up over Brickell like a colossal exclamation mark, the new Four Seasons tower, at 70 stories the tallest in Florida.
As it sweeps over the city, this tsunami of urban development seems bound to leave behind a bracingly different place -- a denser, livelier, more cosmopolitan Miami.
"I think we're in the midst of the most significant redevelopment boom in the history of the city," said Miami Commissioner Johnny Winton, in whose district some of the most intense building is taking place. ``We could end up with one of the absolutely best cities anyone would want to live in, work in, play in."
But for that to happen, Winton acknowledged, the city must ramp up planning designed to ensure that the new development will bring life to streets and neighborhoods, not kill them.
The furious pace of development worries some residents and urban activists, who are skeptical of the city's ability to corral it, even with reformist Mayor Manny Diaz at the helm. The city has long been known for embracing developers and neglecting planning, critics note.
In areas like Edgewater, Brickell and downtown, generous zoning instituted decades ago permits sky-is-the-limit construction that many residents fear will result mostly in overdevelopment, greater congestion and walled-off water views.
"It takes a lot of sensitivity to revive a city," said Nancy Liebman, a preservationist and former Miami Beach commissioner who played a leading role in that city's revitalization, and is now president of the Urban Environment League. ``I do have confidence the mayor has the sensitivity and he has good people working for him, but they have to begin to make the plans now before they have all kinds of mistakes.
``So far, we don't see any real plan. We see people doing development anywhere they want to do it."
The momentum appears unstoppable. Right now, about 17,000 condos, lofts and apartments are under construction or awaiting permits in a narrow bayfront corridor that runs between Southwest 15th Road in Brickell to 36th Street in the Edgewater district, where much of the available land has been snapped up.
Developers, many from out of town, are scouting for more. There is feverish speculation as investors try to divine the next hot spot. Will it be Overtown? Park West? Wynwood?
TIP OF AN ICEBERG?
Investors are reportedly flocking to neighborhoods.
Tall buildings are only the tip of a bigger redevelopment iceberg, says Winton -- an urban renaissance that extends to rehabs of homes and apartments in neighborhoods from Buena Vista and Wynwood to The Roads and Little Havana.
"What is more significant is there are literally hundreds of investors crawling all over the city," Winton said. ``There is redevelopment, home rehabs, new businesses coming in."
Miami is not alone. Across South Florida and the rest of the country, central cities are experiencing a rebirth and urban living has become newly chic, especially among the young. Unlike previous high-rise booms -- the 1920s boom that brought tall hotels to downtown Miami and the 1970s office-tower boom -- the bulk of new Miami projects are residential, although most also contain commercial space at ground level to generate pedestrian traffic.
Those buying and renting in the new high-rises are mostly middle-income locals, developers say -- young professionals, downtown office workers, and empty-nesters looking to downsize. That is a sharp departure from the wealthy foreign and seasonal residents who once made up a sizable proportion of high-rise condo buyers along Brickell.
Demand -- fueled in part by suburbanites' weariness from lengthening commutes -- is such that no sooner do billboards go up than buildings are rented or sold out, developers say.
"The whole issue of traffic is No. 1," said Luis Ajamil, a partner in BAP, a firm with four mixed-use high-rises in Miami, including a pair in Brickell, under construction. 'People are saying, `Enough of suburbia.' It's a dramatic paradigm shift. Maybe it's not for everybody. But certainly it's for the generation that's coming up. This is the way to go. Otherwise, there's not enough transit and roads we can build."
To be sure, Miami has a long way to go before it merits comparison to Manhattan or other densely packed, high-rise waterfront cities like Hong Kong or Rio de Janeiro. But there are similarities. Hemmed in between the Everglades and Biscayne Bay, Miami is a virtual island. With population rising and the western suburbs all but built out, the only way to add housing is to build up.
Even if just some of the planned projects are built, the boom will bring thousands of new residents to Miami's core, enlivening sidewalks that have been bereft of life ever since city residents began decamping for the suburbs.
To city leaders and many hopeful residents, the boom culminates a dream they have long pined for -- to endow urban Miami with a round-the-clock pulse to rival Paris, New York or San Francisco.
If city planners prevail, what goes up will not replicate the self-contained condo palaces that line the bay along Brickell. Those towers were designed with the notion that occupants would be driving in and out, rarely setting foot on the vestigial sidewalks outside.
City planners are developing zoning rules and guidelines that would instead require the new buildings to hug sidewalks, lining them at ground level not with garage ramps or blank walls but with shops, cafes, restaurants, dry cleaners and small groceries.
The plan for Mary Brickell Village would put a residential tower atop a Publix supermarket. A proposal for the old Buena Vista rail yard would put apartments over big-box stores, set not amid a parking lot but on a traditional grid of pedestrian-friendly streets.
Such "mixed-use" projects are all the rage, affording occupants a broad range of choices and activities a short walk or transit ride from their front door.
If plans come to fruition -- always a big if in Miami -- those choices in and around downtown will include a new Performing Arts Center, museums, nightclubs and, for the first time in 40 years, movie theaters, all served by new rail lines linking downtown to surrounding neighborhoods.
BIG TRANSFORMATION
Developer says that Miami will be different in a decade, "You will not recognize Miami in 10 years," said Jorge Perez, whose Related Group is building the One Miami condos at the Miami River's mouth, the first new housing in the old downtown core in decades. 'You are going to see large crowds walking down Biscayne Boulevard and along the water. You will have 10 times the number of restaurants. You will have museums, ballet schools, artists' lofts."
The phenomenon is fast spreading to other parts of Miami-Dade County.
Developers and planners, armed with new zoning codes and design guidelines, are packing density into broad swaths of suburbia, fashioning new urban residential centers from downtown Coral Gables to downtown Kendall and even rural Princeton in South Miami-Dade.
Urban enthusiasts say there is little to fear from greater density, properly planned and designed. High density is what makes great cities go, they say. Lots of residents packed together in compact neighborhoods provide the kind of spending power necessary to support shops, restaurants and cultural facilities, planners and urbanists say.
Previous efforts to revitalize downtown Miami, including construction of two sports arenas and Bayside Marketplace, failed to generate broader development precisely because there were no people living there to support it economically, they say.
"It really takes housing, not commercial development, in this day and age to bring life to the streets," said David Dixon, an urban designer in Boston who helps cities redevelop urban districts.
And those housing densities must be high, Dixon said. At least 1,200 households within a radius of 1,000 feet were necessary to support a block of main-street shops and restaurants in projects he worked on in Cambridge, Mass., and Columbus, Ohio, Dixon said.
Planners and urbanists say there are no good alternatives to creating greater density in Miami. Population projections suggest that hundreds of thousands more people will call Miami-Dade home by 2025, and it's better that they be concentrated in high-density urban districts than intrude deeper into the Everglades or the farmlands of deep south Miami-Dade, they say.
Dense neighborhoods are more efficient and less costly to taxpayers than sprawling suburbs, urban experts say, because they are easier to service and police. They also enable mass transit to work, making it convenient for residents to forgo cars, helping to reduce greenhouse gases and to conserve green space, say planners and urbanists. It was a strategy that underlay county Mayor Alex Penelas' successful push last year for a half-penny transit sales tax.
Yet there is another side to this coin. Even some who longed to see developers spurn sprawl and return to Miami are wondering if they are getting precisely what they wished for.
TRAFFIC AND SERVICES
Concerns about both worry residents in growth areas as the pace of development seems to outrace planning efforts, many residents worry about overdevelopment, traffic congestion and the potential strain on already thin public services.
Battles are flaring over building heights and scale as higher density creeps up to and into long-established neighborhoods, from the quaint riverside district of Spring Garden to historic, bayside Morningside. Residents in both historic districts have fought high-rise towers just outside their borders.
Some longtime residents fear that the boom will mean more urban mishaps like Brickell Bay Drive. There, what you see from ground level is not the adjacent water, but a canyon of parking garages serving the behemoths astride them.
"Ugly, terrible, miserable parking garages and not a soul on the street," said Robert McCabe, former president of Miami-Dade Community College and now a Brickell neighborhood activist with the South Miami Avenue Homeowners Association.
Design, too, is a concern. Critics say developers too often put up could-be-anywhere buildings that evoke little of Miami, often in place of historic structures. Two years ago, for instance, a residential-tower developer tore down the Brickell home of Dr. James Jackson, an early Miami physician who helped start what is now Jackson Memorial Hospital.
In the short term at least, contends lawyer and activist Tucker Gibbs, who represents neighborhood groups fighting development, Miami is unprepared to absorb the traffic and other effects of construction already under way.
"Brickell is a historic road," Gibbs said. ``They can't widen it. It's already over capacity. I mean, my God, it's going to be horrible. Brickell, Miami Avenue, Coral Way -- where is all the traffic going to go?"
Public officials say they are ready. For the first time in decades, the city is about to overhaul its outdated zoning code and institute a citywide development master plan that officials vow will balance new development with revitalization and preservation of neighborhoods.
For instance, proposed building-design guidelines for Brickell Village seek to ensure that the fledgling residential and entertainment district retains its walkable, sidewalk-friendly feel.
"The commission is serious about planning and smart development," said Otto Boudet-Murias, the mayor's economic development advisor. ``We can afford to be stricter about planning now. It's not like we're begging development to come in."
Even those skeptical of the city's ability to pull it off fervently hope it does.
"I'd love for residents to come back downtown," said Miami historian Arva Moore Parks, who lives in a historic single-family neighborhood with a clear view of new towers rising on Brickell and South Miami avenues. ``I remember when it was a great place to go out to dinner and shop and go out to the movies. You would go on dates downtown. People would congregate downtown.
``We have the opportunity to do something wonderful here. I would just hate wasting it."
Copyright ©2019 - Brown Harris Stevens | Zilbert - Zilbert International Realty - Zilbert Realty Group
Your Condo is a Zilbert Condo®, Condo Flip®, CondoSuperCenter® and Brown Harris Stevens | Zilbert - Zilbert International Realty - Zilbert Realty Group® are REGISTERED TRADEMARKS of Brown Harris Stevens | Zilbert - Zilbert International Realty - Zilbert Realty Group, Inc. My Sun Break® and Florida Sun Break® are trademarks of Brown Harris Stevens | Zilbert - Zilbert International Realty - Zilbert Realty Group. Zilbert Realty Store™ and Your Home is a Zilbert Home™ are trademarks of Brown Harris Stevens | Zilbert - Zilbert International Realty - Zilbert Realty Group. All Rights Reserved.
By
Mark Zilbert
. Mark Zilbert recommends that buyers, sellers and renters of real estate consult appropriate professionals for legal and other specialized advice. Information presented on this website is believed to be accurate but is not warranted. Oral representations should not be considered valid. Information presented on this site (and in generated reports) may contain listings from both Brown Harris Stevens | Zilbert - Zilbert International Realty - Zilbert Realty Group and other brokers who cooperate with Brown Harris Stevens | Zilbert - Zilbert International Realty - Zilbert Realty Group. The content on this webpage (including drawings, photos, text and other materials) may have been provided by developers, third parties or others, and may have been extracted from a developer's marketing materials. Brown Harris Stevens | Zilbert - Zilbert International Realty - Zilbert Realty Group does not warrant the accuracy of such information. You should consult your Purchase Agreement, Contract and Condominium Documents for accurate information. Brown Harris Stevens | Zilbert - Zilbert International Realty - Zilbert Realty Group is an independent broker and has no developer affiliation, unless otherwise noted. Our trademarks include wording that suggest that the condos and homes represented on this site are "Zilbert" condos and homes. These statements are not meant to represent or imply that Brown Harris Stevens | Zilbert - Zilbert International Realty - Zilbert Realty Group has ownership or marketing agreements for any of the condos or homes listed on this website or in other media. The nomenclature of Your Condo is a Zilbert Condo or Your Home is a Zilbert Home (and any variations of such terms) identifies Brown Harris Stevens | Zilbert - Zilbert International Realty - Zilbert Realty Group as a skilled and knowledgeable real estate broker that, along with its associates, is in the practice of listing and selling condos and homes in condo buildings and neighborhoods that appear on this website.
Contact us for additional information.